---
Discover Homestay in Woodford Green
London is a big city, and a very populated one, so it can be difficult to discern which neighbourhood is right for you in terms of a long, mid or short-term homestay. We have a wide range of properties across all areas of the city; with Woodford Green being just one of many choices available. Our team are contactable by phone or email to discuss accommodation options and availability. So once you've read on, get in touch!
A neighbourhood like no other in the capital, Woodford Green has a great mix of rural and urban living opportunities… with forests, lakes, country parks and the numerous transport links you'd hope of for London. Here you'll find the city experience you'd expect alongside a quieter, more slow-paced way of life: giving you the opportunity to work (or study) hard and relax at the end of the day too.
Where is Woodford Green located?
A suburb of Woodford, you'll find Woodford Green in north east London towards the county of Essex; indeed, which it once was a part of. Buckhurst Hill is to the north, Chigwell to the east, Epping Forest to the south and Walthamstow and Chingford to the west. The area has an IG8 postcode so it may seem quite far out – but you're actually less than 15 miles from central London.
What is there to do in Woodford Green?
As a green suburb, life here is often spent in the great outdoors.
Climb the High Ropes at Fairlop
Fairlop Waters is a large country park and leisure facility in nearby Redbridge and has a whole host of activities for visitors to drop in and try out – including the newly built high ropes climbing course. If heights aren't your thing, don't worry; try instead the driving range, windsurfing classes or angling!
Celebrate Arts, Film and Dance at the Community Festival
If you time your visit right, you'll be able to participate in the Woodford Community Festival, which takes place in over 30 venues across the area. Everything to do with local culture is covered and there's lots of events on offer for free so ask around and experience something new.
Go Boating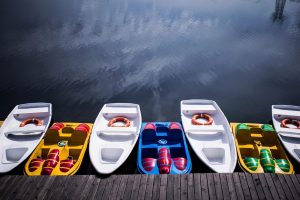 Epping Forest has boat hire available for a competitive £15 p/hr and will make for a great day out. Why not take your host family as a treat?
What's the typical Homestay accommodation Here?
Woodford Green is primarily residential, but not in the typical London Victorian-era terraced houses sense. Instead you'll find leafy tree-lined streets and a mix of period properties, detached and semi-detached housing; with some stately homes and new build estates thrown into the mix too. There's also several private gated communities for those who prefer a more private way of life.
How safe is Woodford Green?
Woodford Green is one of the most desirable parts along the London/Essex border to live and is very safe – particularly compared to more central neighbourhoods. The postcode area as a whole (which includes Chingford) has less than 100,000 residents. The most prevalent crime is anti-social behaviour – so hardly dangerous or a threat to personal safety. The district will seem considerably quieter at night than the city. But it's still served well by both public and private transport should you not feel like walking around alone.
What type of Host Families live Here?
The residents of Woodford Green are mainly families with professional parents and older, retired people. There's some highly rated schools in the area, so many families with children favour this neighbourhood. This makes for some great homestays, as those with plenty of room seek out temporary guests to help bring in some extra income.
Winston Churchill was the MP for the area for 19 years, and the political climate remains Conservative today with prominent MP Iain Duncan Smith. The appetite for politics here is historic; previous inhabitants of the neighbourhood include famous suffragette Sylvia Pankhurst and previous Labour Prime Minister Clement Attlee.
What transport links does Woodford Green offer?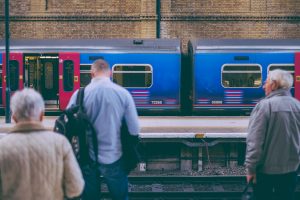 Woodford Green is walking distance to Woodford, South Woodford and Roding Valley stations, which all sit on the central line (zone 4) for easy commuting into central London. Woodford to Liverpool Street (zone 1) takes around 20 minutes on the tube, and it's only 30 minutes to Oxford Circus. London buses also serve the area, with routes to Walthamstow, Leytonstone, Debden, Oxford Circus and Wanstead.
Two A roads (the A113 and A104) both run through Woodford Green and many residents commuting to destinations outside of London choose to drive.
Find Homestay in Woodford Green

If you are an international student, intern or professional looking for homestay accommodation in Woodford Green or close by, we would love to hear from you.
Become a Host Family
Similarly, if you have a spare room in your Woodford (IG8) home and are interested in hosting international students, please do get in touch.