Mid-Term Stays in London
So you've planned to visit London for a few months but don't have a lot of money to spend? You're in the right place, as we're about to bring you the best budget alternative accommodation options for mid-term stays. If it's longer than a holiday but not quite long enough to be living in London, then you'll be looking for mid-term accommodation.
If you haven't found a place to stay yet, take a look at these ideas.
Student Halls of Residence
Did you know that you don't have to be a student to stay in student accommodation? There are many student residences all over London, and if any rooms become vacant then they can be rented out by non-students. Campus accommodation can be much more affordable than renting a room in a houseshare, and it will be fully furnished with bills included. Moreover, you may even get lucky and have access to a gym and free Wi-Fi!
University rooms can become available for short or long stays, but if you're visiting in London at certain times of the year then you'll have a better chance of finding availability. For example, many students leave their accommodation over the summer leaving lots of rooms free in June, July, August and September. Months where there are long holidays such as December for Christmas, and March or April for Easter, are also good times to try and find empty student accommodation. Check out websites such as University Rooms and contact providers of student housing. Most rooms are available without a deposit and are all inclusive of bills so it's an ideal choice for a mid-term stay in London.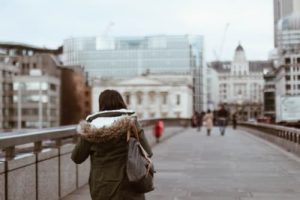 Homestay accommodation
One of the most comfortable and affordable options for longer stays in London is a homestay. You will stay with a host family in a London home, in their spare room, and enjoy lots of home comforts during your medium-term stay. Homestay accommodation is very popular with students, tourists and people arriving in London looking for work.
There are homestay hosts across the city so you can often choose the area you would like to live. Whether you need to stay for six weeks or six months, hosts can accommodate your requirements. Having a host comes with a wide range of benefits – ask them any questions about London, learn about the local culture, improve your English and sample their traditional British cuisine.
Organising a homestay is simple through a homestay provider such as HFS London. Just tell us what you're looking for and how long you'll need to stay, and choose your meal plan. The provider can then match you with your ideal host! Moving abroad to a city where you don't know anyone can be extremely scary – but staying with a host family can help you find your feet, and you might even make friends for life.
House sitting/ Pet sitting
House sitting is a fantastic way to see the world while staying in beautiful homes. Empty properties are often found on home sharing platforms such as Airbnb, at a premium price. However, there's a way to stay in top accommodation in London for free, or for a very low registration fee.
All you need to do is agree to look after a homeowner's property while they are away, and possibly their pets too. You'll need to keep the home clean and tidy while the owner is away, and protect it from burglars and squatters. If the house comes with a dog or cat then you'll also need to take responsibility for them, and any other pets. Pet lovers make the best house sitters!
If you sign up to be a house sitter or a pet sitter, you could find yourself with luxury private accommodation in central London for an extended period, for just the small monthly fee of the housesitting website. Owners will be away for different lengths of time, and while many are short term you can often find longer listings when owners are working abroad.
Some of the most popular websites for house sitters include trustedhousesitters.com, mindahome.co.uk and housesitmatch.com.
Property Guardianship
A concept which emerged back in the 00s has both positive and negative associations. Property guardians get to stay in unused properties and protect them from squatters, for a rent which is around half the price of typical London rentals. For many it's a win-win situation, but guardians have very little legal rights.
The types of property you can live in vary. It may be an empty house or it could be a huge disused office block waiting to be refurbished. You may have to share large buildings with many other guardians, and the facilities may not be high quality because they were not designed as residential buildings. However, for many people looking for a mid-term place to stay, it is worth the savings in rent.
The advantage of becoming a property guardian is you'll get to live in somewhere unusual for a good price – it could be a block of flats, offices, a church or an old library. You'll also get to meet new people as you'll be sharing the space with other guardians. However, the downside is that you could be evicted from your home with very short notice.
The shorter time you decide to stay in London, the harder it is to find affordable accommodation. If you are planning to stay for weeks – not months – and you want cheap short-term accommodation, then check out the other guide in our blog series for shorter stays in London.