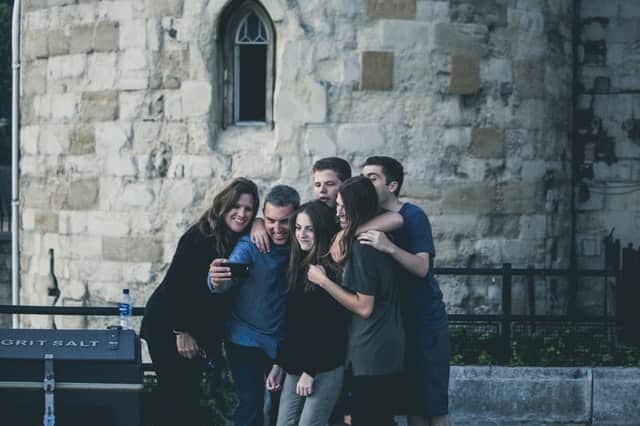 This is a practical guide for anyone deciding whether hosting junior (under 18s) foreign/international students is right for them.
Is hosting junior (under 18) students right for me?
Every year thousands of parents of international students choose to send their children (aged under 18) to study in London as they know that English will be crucial for their future.
In recent years the number of under 18 year old international students coming to London has been increasing at a significantly higher rate than the number of adult international students.  Today (in 2017) it is estimated that 51% of foreign students currently studying in the UK are juniors (under 18s).  This has been due in part to stricter UK Border Agency visa requirements for adult overseas students from outside of the European Union.  Also, in a more difficult world economic climate many parents from overseas have felt that it is important to invest in their children's education from an even younger age.
As a result, hosts who are willing to accommodate younger students will likely receive considerably more placements than those who are not.  If you are considering hosting junior students, however, it is important for you to understand some of the (i) practical and (ii) legal differences in hosting juniors compared to hosting students over 18.
This guide outlines some of the main practical differences between hosting adults (over 18s) versus hosting juniors (Under 18s).  It is written to help you decide whether hosting juniors is right for you as a new homestay host.
Practical Differences – Adults vs Juniors
Students over 18 Years Old (Adults)
In general terms, students aged over 18 will tend to be more independent than their younger counterparts.  These students will often book their accommodation as individuals so they will usually want their own room.  Sometimes they will book a "twin" homestay to share with a friend, but the majority of adult students will come on their own.
Students in this age bracket tend to want to be located very close to their place of study.  As many of our educational partners are located in central London (zone 1), we often get requests from these students to be placed in homestays in zones 1 & 2.  This can be more challenging for us as a homestay provider, especially in the busiest months of the year, as many homestay hosts live outside of zone 2.
Students over 18 years old will often request the Half Board (continental breakfast and dinner) meal option.  Although as a host it is not compulsory to offer this option, if you are able to do so it will mean that you will likely receive more placements.
Students in this age group tend to stay between 4 to 6 weeks on average.  Some will stay much longer depending on the course they are studying.
Adult students choose homestay looking for a "home from home" experience.  It is therefore as important that the host provides a "home from home" to an adult student as it is where a junior student is concerned.
Students Under 18 Years Old (Juniors)
The Children Act 1989 states the legal definition of a child is "a person under the age of 18", so our legal responsibility as a company is to safeguard and protect the welfare of all students under the age of 18.
The two broad categories of under 18 year old students that HFS London receives enquiries about from our language school and study agent partners are:
Students aged 16 & 17
Students aged under 16
At the host family registration stages, therefore, our online host family application form will ask whether you would consider hosting junior students in either (or both) of the above two categories.
In practical terms you should be aware that there are differences in hosting students aged 16 & 17 compared to hosting students aged under 16.  To help you decide which age group is right for you, some of these practical differences are explained below.
(i) Students Under 16 Years Old
Students aged U16 will often be visiting London as part of a larger group.  There can be up to 100 students in any one group.  The group will usually be accompanied by group leaders (from the students' home country) whose responsibility it is to ensure the welfare of all students in the group.
In reality, the age range within this bracket is usually between 13 to 16 years old.  In London it is quite rare to get requests for students much younger than this.
This age group will sometimes be here to study English, but more often than not the purpose of their visit is more tourism and culture than it is study.  The students will have timetabled activities each day that can include sight-seeing, excursions and visits to nearby cities.
The client booking the group will always request that the group be placed with host families located in the same area(s) for practical/logistical reasons.  Often, therefore, these students will be placed in homestays in zones 3 or 4 where there is a greater availability of homestay accommodation.  This is great for homestay hosts who live a little bit further out, especially considering that a lot of adult students (aged 18 plus) tend to request to live in host family accommodation that is more centrally located (London zones 1 & 2).
U16 groups arrive by coach but hosts are usually expected to collect (and on departure drop back) their students by car from a local group meeting point.  For example, if the student group is placed in Woodford Green (zone 4), then the coach will arrive in Woodford Green and hosts will be asked to pick up/drop off their student from a local meeting point in Woodford Green.  If pick up/drop off is a requirement of the placement, it will be explained to you at the time of booking.
As these are younger students, many educational clients are happy for up to 4 students to be placed in a homestay.  If you have more than one spare room in your home then this could work well.  Many hosts who enjoy hosting younger students will set their home up to offer two twin rooms to house two students in each room.  The standard of the accommodation must still meet British Council guidelines, so hosting more students does not mean that the quality of the accommodation can be compromised.
Under 16 year olds will often request a Full Board meal option.  This means continental breakfast, a packed lunch (sandwich, crisps, fruit and a drink) and an evening meal.  This may not suit everyone but it is important to note that usually these groups only stay for an average of 1 week.
If you live in zones 3 or 4 and wish to be kept busier over the course of the year, then hosting under 16s is an option that you may wish to consider.
(ii) Students Aged 16 & 17 Years Old
Generally speaking students in this category will tend to be more mature than those in the U16 category.  However, students in this age group are still considered children by UK law.  As a company HFS London has as much of a legal duty to safeguard and protect the welfare of a 17 year old as we do that of a 13 year old student.  We also have obligations as part of our ongoing registration with the British Council.
In practical terms hosting students in this age group will differ depending on whether your student is coming as part of a larger group or whether they are visiting London by themselves.
The purpose of a 16 or 17 year old's visit can vary.  If they are here by themselves it will usually be to study English at a language school.  If they are coming as part of a group, it will usually be for tourism purposes where daily scheduled activities may include sight-seeing or trips to visit other UK cities.
The location preferences of students aged 16 & 17 will usually depend on the reason for their visit.  If they are in London to study English then, just as adult overseas students do, they will usually request to be as close to their place of study as possible (often in central London).
If they are here as part of a larger group, then their group organiser will nearly always request for the groups to be located in the same area(s) for logistical reasons.  Such groups will arrive to the given area by coach but hosts are usually expected to collect (and on departure drop back) their students by car from a local (to the hosts) group meeting point.
If the student is here by themselves they will normally want to have their own room.  If they are visiting as part of a larger group then the group organisers will be happy for students to share a room with another student.  Providing the accommodation is suitable, they may also be happy for up to 4 students to stay in one homestay accommodation.
International students in this age range will more often than not request the Half Board (continental breakfast and evening meal) package.  Some 16 &17 year old groups will request Full Board but this is not as common as with groups aged U16.
Interested in becoming a Host Family to overseas students in London?
If so, please first take a look at our How it Works page and FAQs page for new Host Families in London.
HFS London is a British Council registered provider with many year's experience in homestay accommodation for overseeas students.  If you are interested in hosting our students, then we would love to hear from you!